Situated in the Southeast Asian countries on the South China Sea, Vietnam is well known for its beaches, rivers, Buddhist pagodas and bustling cities. Once visiting Vietnam, Hanoi - the capital, Ho Chi Minh city - the economic center or Halong Bay, Nha Trang... are in the list of 10 Best Places to Visit in Vietnam that one will always add in any Vietnam Package Tours.
10TH Dalat
Đà Lạt is the capital of Lâm Đồng Province in southern Vietnam's Central Highlands. This beautiful city is centered around a lake and golf course, and surrounded by hills, pine forests, lakes and waterfalls. Dalat is also named as the "City of Eternal Spring" for its distinctive temperate climate, Dalat was developed as a resort by the French in the early 1900s, and many reminders of its colonial heritage remain.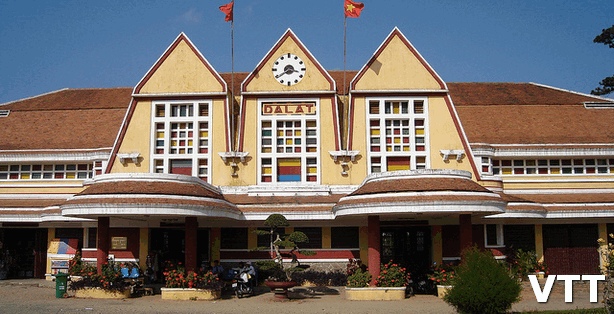 Listed in the top places to visit in Dalat are the beautiful waterfalls such as: Prenn Waterfall, Datanla Waterfall, Dambri Waterfall... The city is also famous for its beautiful Zen Monastery of Dalat, King Bao Dai Palace and old pagodas, temple... One of the attraction of the town is the yearly festival of Tea Festival, Flower festival...
Getting to Dalat, you can take a flight from Hanoi - the capital for a bus ride of 5 hours from Saigon - Ho Chi Minh city. 
9TH Myson
Chăm Pa culture had great influences on Vietnam's cultural values of significance. The once upon a time capital of Chăm Pa Kingdom from 4th to 15th century was "Thánh địa Mỹ Sơn", called "Myson Sanctuary" or "Valley of Kings" by French historians. Myson is one of the famous world heritages of Vietnam.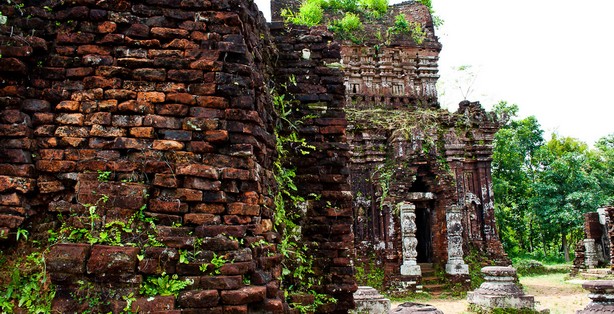 In those days, Myson became center for spirituality and worship during the reign of the Champa Kingdom. Exemplifying the height of Cham architectural achievement, The Myson Sanctuary is a large complex of religious monuments originally consisting of more than 70 structures; the vestiges of 25 of which remain today. The builders of Myson were the nobility of the Champa Kingdom who derived their cultural and spiritual influences almost exclusively from India.
 Myson is 45 minutes from Hoian and around more than 1 hour from Danang. Most of tourists visiting Myson will be staying in Hoian before their travel here with a Half day tour to Myson from Hoian. 
SEE ALSO:
Package Tours with Myson                    Private Tour Guides for Myson
8TH Ho Chi Minh City
Ho Chi Minh City is the biggest city in Vietnam, commonly known as Saigon. The city got the name since 1975 when the nation unified. Ho Chi Minh city is over 1700 kms from Hanoi and from Ho Chi Minh city you can take a flight to any other South East Asia nations within 2 hours. Thus, this is the economy center of the whole nation and coming up to be of the area.
The city is famous for the pivotal role it played in the Vietnam War. It's also known for its French colonial architecture, including Notre-Dame Basilica, made entirely of materials imported from France, and the neoclassical Saigon Central Post Office. Food stalls line the city's streets, especially around bustling Ben Thanh Market...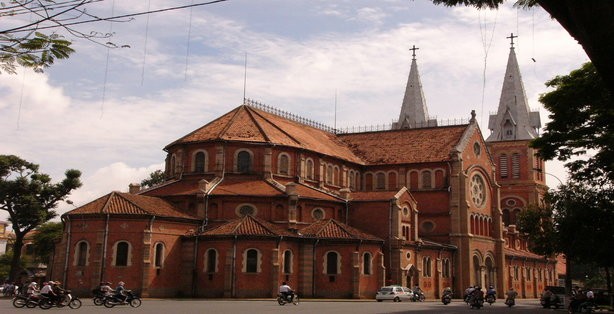 Ho Chi Minh city is also the home base to explore the South of Vietnam with Mekong Delta tours , Cu Chi Tunnel tours... 
SEE ALSO:
Ho Chi Minh City Package Tours                             Ho Chi Minh City Tour Guides
7TH Mekong Delta
The Mekong Delta (Đồng bằng Sông Cửu Long "Nine Dragon river delta"), also known as the Western Region (Miền Tây) is the region in Southwestern Ho Chi Minh City where the Mekong River approaches and empties into the sea through a network of distributaries. The Life in the Mekong Delta revolves much around the river, and many of the villages are often accessible by rivers and canals rather than by road.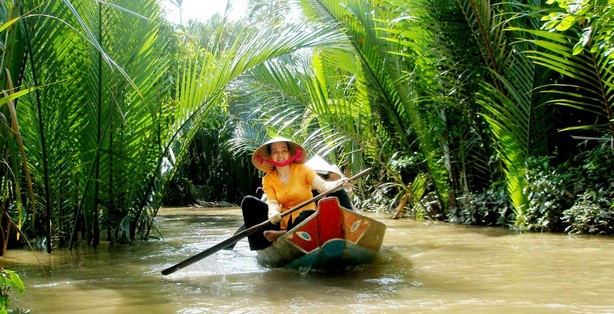 The Best Places to Visit in Mekong Delta are the colorful floating markets, fruit orchards, rice paddies, sugar cane groves, bird sanctuaries and quaint villages. You can also join the Overnight cruise trip in Mekong river for 1 or 2 nights or simply get a day tour from HCMC. 
6TH Nha Trang
In the middle of the Best Places to Visit in Vietnam List, Nha Trang is a coastal resort city in Southern Vietnam known for its beaches, scuba diving and offshore islands. Its main beach is a long, curving stretch along Tran Phu Street backed by a promenade, hotels and seafood restaurants. Cable cars cross over to Hòn Tre island and the Vinpearl Resort, with a golf course, water park and fairground.
When coming to Nha Trang, several places you should visit apart from the beautiful beach is a day out to the ocean with a private boat and visit groups of islands of the bay. The visit to Po Nagar tower, Long Son pagoda, Mud bathing, local lobsters... would bring a memorial beach trip in Vietnam. 
Nha Trang is reachable from Hanoi (1 hour 15 minutes) and Ho Chi Minh City (1 hour) with direct flights and also the place you can reach by Vietnam train. 
5TH Sapa
Coming to the North of Vietnam, listed in the top 5 Best Places to visit in Vietnam is Sapa -a frontier town to China and capital of Sa Pa District in Lào Cai Province in Northwest Vietnam. It is one of the main market towns in the area, where several ethnic minority groups such as Hmong, Dao (Yao), Giáy, Pho Lu, and Tay live. Coming to Sapa is coming for super beautiful nature and local ethnic minorities' culture.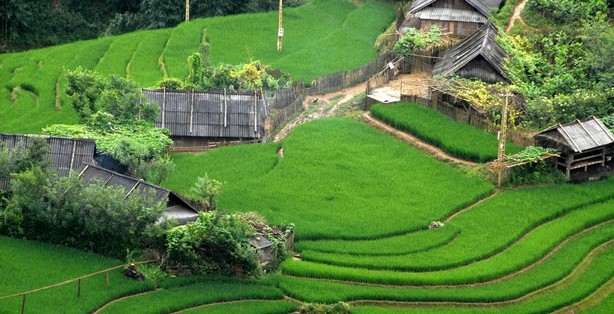 For the best places to visit in Sapa Vietnam, for the top of the list is the villages surrounding such as: Lao Chai Village, Cat Cat village, Ta Phin village... The further explore with the trekking to stay overnight in Hmong or Dzao ethnic people. The most colorful aspect of Sapa will come to the overnight with the homestay in the village and also the local markets of Bac Ha, Can Cau, Binh Lu...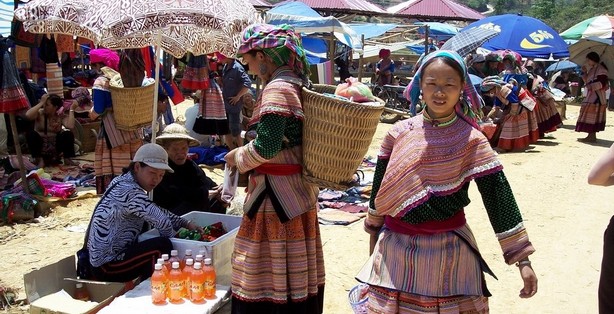 Sapa is around 300 kms away from Hanoi which is reachable by Bus from Hanoi within 5 hours. Traveling bu bus will be somehow tiring but you can view every landscape in a daylight. The movement by the night train will also find you tired as you may not be able to sleep on the noisy 19th century train.
SEE ALSO:
Sapa Package Tours                                           Sapa Local Tour Guides 
4TH Hue 
Coming to the central of Vietnam for one of the member in the list: Huế city. It was the seat of Nguyen Dynasty emperors and the national capital from 1802-1945. A major attraction is its vast, 19th-century Citadel, surrounded by a moat and thick stone walls. It encompasses the Imperial City, with palaces and shrines; the Forbidden Purple City, once the emperor's home; and a replica of the Royal Theater.
When visit Hue, One of the Best Places to Visit in Hue Vietnam will of course be the ancient Hue citadel. Further explore to the Thien Mu pagoda, Perfume river, Dong Ba market and the visit to the tombs of the kings: Khai Dinh, Minh Mang, Tu Duc...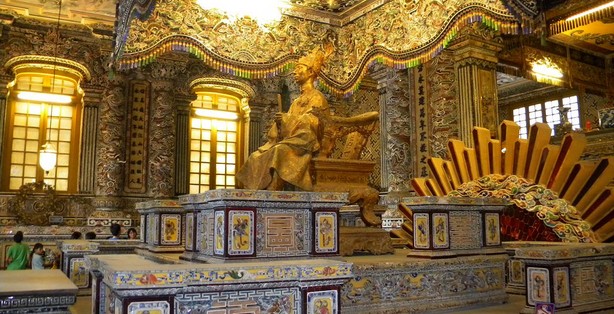 Getting to Hue - the center of Vietnam is pretty easy. You can fly directly to Danang international airport and get transfer with private service to Hue. There is also a Domestic airport in Hue where you can fly up and forth to Hanoi and Ho Chi Minh city. A common way is to get to Hue by night train from Hanoi which is 700 kms from Hue. 
SEE ALSO:                 Places to visit in Hue, Vietnam
Hue Package Tours                                                          Hue Private Tour Guides
3RD Hoian  
Very near Hue and Danang is Hội An - a city on Vietnam's central coast known for its well-preserved Ancient Town, cut through with canals. The former port city's melting-pot history is reflected in its architecture, a mix of eras and styles from wooden Chinese shop-houses and temples to colorful French colonial buildings, ornate Vietnamese tube houses and the iconic Japanese Covered Bridge with its pagoda.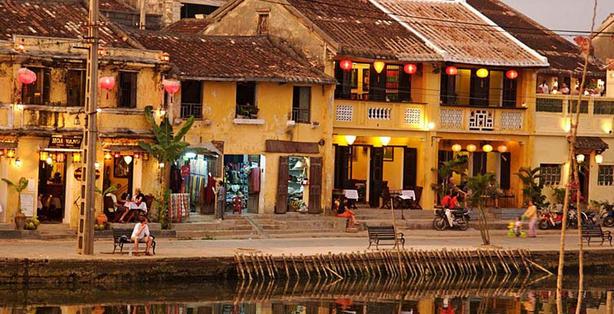 Once visiting Hoian, the Best place to visit in Hoian is the Japanese Covered Bridge, the Cham museum, the Old houses along the Thu Bon rivers and the ceramic village of Thanh Ha. Hoian is also the town for tailor services which is quite reasonable.
To get to Hoian, you will need to pass Danang city. You can fly to Danang international airport and book a private transfer to Hoian town. The best place to stay in Hoian are inside the city Ancient town hotels or if you are beach lovers you can get to stay in a beach resort which is quite far away from town but you can travel easily by shuttle bus of the hotels. 
SEE ALSO:
Hoian Package Tours                                                          Hoian Private Tour Guides
2ND Hanoi  
Ranking 2nd of the List is Hanoi - the capital of Vietnam - which is known for its centuries-old architecture and a rich culture with Southeast Asian, Chinese and French influences. At its heart is the chaotic Old Quarter, where the narrow streets are roughly arranged by trade. There are many little temples, pagodas, All streets here sell all kind of goods and the street food.that anybody in Hanoi once visit should not forget to try.
Visiting Hanoi, the top of the best places to visit will come to the Old Quarter with the Hanoi Food Tour. You should not forget the Ho Chi Minh Mausoleum, Hanoi famous museums, Temple of Literature, Ngoc Son temple, Hoan Kiem Lake, One Pillar Pagoda... and for the night entertainment, do not forget the Water Puppet Show. All of these will make your trip in Hanoi a very memorial one. 
Getting to Hanoi is very easy with all kinds of transportation. You can fly to Hanoi with Noi Bai International airport which is 30 kms away from town. Train system can connect Hanoi to anywhere and also you can travel by the main roads to other destination. Hanoi is a perfect home base for the North of Vietnam exploration making it the 2nd position in the list of Best Places to visit in Vietnam.
 SEE ALSO:                   Places to visit in Hanoi
Hanoi Package Tours                                   Hanoi Private Tour Guides
1ST Halong Bay  
 Top of the List is Halong Bay Vietnam which is an area of around 1,553 km2 with the appearance of 2000 islands made of limestone. Halong Bay became the World heritage site in 1994 and ever since, it has been recognized as the MOST wonderful part of Vietnam, the MUST-GO destination in the North of Vietnam. 
The best activities in Halong Bay is of course with the overnight journey on Halong Bay Good Cruises.  Visiting of the caves, enjoying the meals during sunset, swimming in the special ocean, kayaking to discover nature... those are activities in Halong bay you can do.You can also visit the bay within 4 hours boat trip.
The main way to reach to Halong is with the road drive from Hanoi which is around 3,5 hours. Tourists can also come with International Cruise Ships which will dock at Halong city harbors. It is said that if you come to Vietnam without seeing Halong Bay, you have not made it!
SEE ALSO:                       Places to visit in Halong Bay
Halong Package Tours         Halong City Tour Guides     Halong Bay Good Cruises
We do hope that the Best Places to Visit in Vietnam Listed above have well provided you the places to go to discover the country the best. Let's us be your local expert to inform you what is the best time to visit these places during your Vietnam Package Tours and how you can travel with the best value.