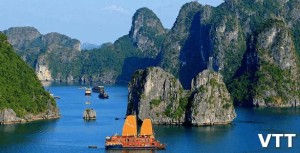 You are NOT ONLY searching for the Best Cruises but ALSO Halong Bay Cruises with BEST VALUE and BEST DEALS Our Good Halong Bay Cruises Deals are here to help you end searching for your Halong Bay and customize your Hanoi Tour Packages with your own desire! Traveling to Halong Bay Vietnam now is easy with the most value this deal will bring to customers in the year 2016! 
GOOD CRUISE ORIGINAL RATE - 40% = HANOI FOOD TOUR +  CRUISE DEAL
PROMOTION CODE: HALONG001
(Applied for group from 2 persons till the end of 2016)
***** VIEW ALL HALONG BAY RECOMMENDED CRUISES *****
HALONG BAY VIETNAM
Halong Bay Vietnam is an area of around 1,553 km2 with the appearance of 2000 islands which are limestone. Halong Bay became the World heritage site in 1994 and ever since, it has been recognized as the MOST wonderful part of Vietnam, the MUST-GO destination in the North of Vietnam.
HALONG BAY CRUISES
With the raise of tourism for the past 20 years, in Halong city now, there are hundreds of cruises around organizing the trips to visit Halong Bay. However, just very few are trusted in our list of: Good Halong Bay Cruises
Starting from the main Tourism Harbors of Halong Bay, you will aboard your cruise (Thuyen Buom - Junks with sails) to start your trip. You can choose to visit the bay either in a Halong Bay Day tour from Hanoi or with an Overnight Journey! 
An Overnight cruise in Halong Bay will have cabin deck, restaurant deck and sundeck on top. Depending on the size of the cruise that they can have 3 or 4 decks. The length is from 20 meters to around 70 meters. 
 With around 150 day cruises in Halong Bay which provide quite a limited services as designed for only 4 or 6 hours cruises in Halong Bay. There is a clean toilet, a kitchen and the restaurant part is also the seating part for tourists to enjoy the bay. The cruise MUST come back to shore before 6.00 PM. Thus, it can only bring you to close part of Halong bay.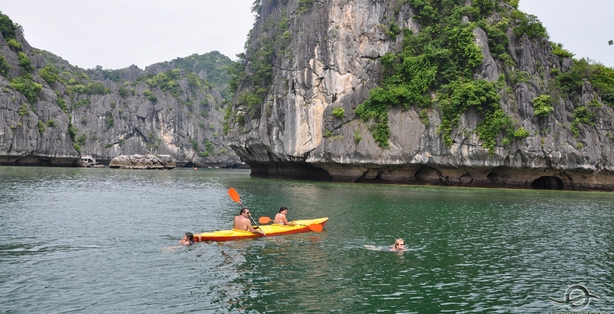 Over 100 Halong Bay Overnight Cruises can bring to you more activities with theirs overnights bringing you more time to enjoy the nature of the special Halong Bay. Meals are served on the cruise and you will stay in a cabin with the view to the ocean plus the sightseeing activities of Kayaking, Swimming, Cooking class. Cave Visit...
GOOD HALONG BAY CRUISES 
Cruises, junks and boats listed up to our list of Good Halong Bay Cruises have all met our require of:
1. Good Reviewed Quality & REAL QUALITY:
Ranking on the forums like Tripadvisor, Agoda, Booking... are all good. Few channels let customers post reviews even they do not use products but a lot of channels means it can be trusted.
Being in the list, these cruises also have to set the standard from "GOOD". Their target market is not the trouble makers, immature young groups...
2. No One Left Behind:
These cruises are hereby following the rule: No One Left Behind assigned between VTT and The Cruises in this list. Please visit Q + A for details!
3. Checked - Tested - Good feed-backs:
- When a cruise starts the business with VTT, we have come on sight to check every single information about the cruises, cabin, quality and find that suitable for our product concept.
- VTT uses some of the specialists to come and experience the cruise in reality and have feed-backs from them to rate the cruise product. All Cruises in this Good Halong Bay Cruises are already tested by our team. 
 4. No Difference
Though the deals of the Halong Bay Cruises to VTT is the CRAZIEST, these cruises' staff consciously understand about rate disparities and when you have these special deals it does not mean that you will be treated differently on the cruise. It is the promise from VTT and Cruises managements. 
5. No Hidden Fees and Extra.
Being in this list, these Halong Bay Cruises have agreed that they Do as they Mentioned. There will be NOTHING extra clients HAVE to pay. There are some cruises with some optional activities and they ARE to be clearly listed out.
GOOD HALONG BAY CRUISES DEALS
As the leading Vietnam local tour operator whose mission is to promote Vietnam as a tourism destination, VTT would like to get you the list of the Trusted Cruises that we have well-chosen from the crowd. As an Authorized Agency, we have worked with them for 2015 Special Discounts and that comes to our offer the Good Halong Bay Cruises With Crazy Deals which will Valid from NOW till the End of 2016!
RELATED TOURS TO HALONG BAY
 >> Halong Bay Day Tour from Hanoi from 30$/pax 
>> Hanoi Halong Bay Cruise 4 days Package from 99$/pax
>> Highlights of Hanoi 5 days package from 155$/pax
>> Hanoi Halong bay cruise Sapa tour 6 days Package 5% Off
Have a great Hanoi Tour and enjoy our Good Halong Bay Cruises Deals!