Saigon Ho Chi Minh City  is the famous business central in the South of Vietnam with Mekong Delta and vast relics of in the surroundings.The following Places to Visit in Saigon Ho Chi Minh city will be the indispensable when you are in one of Saigon Package Tours. 
CU CHI TUNNEL
Củ Chi tunnels are an immense network of connecting underground tunnels in Củ Chi district and 30 km from Ho Chi Minh City Center (Saigon). These and are part of a much larger network of tunnels that underlie much of the country. Cu Chi tunnels were the location of several military campaigns during the Vietnam War, and were the Viet Cong's base of operations for the Tết Offensive in 1968.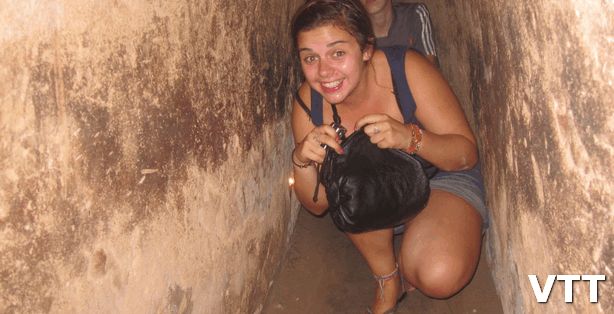 Cu Chi tunnels were used by Viet Cong soldiers as hiding spots during combat, as well as serving as communication and supply routes, hospitals, food and weapon caches and living quarters for numerous North Vietnamese fighters. The tunnel systems were of great importance to the Viet Cong in their resistance to American forces, and helped to counter the growing American military effort.
Once coming to Cu Chi Tunnel, you will try moving in the zigzag way with the lower back to visit different functions buildings inside this tunnel. Attractions include caged monkeys, vendors selling souvenirs, and a shooting range where visitors can fire a number of assault rifles, such as the M16 rifle or AK-47, as well as a light machine gun like the M60.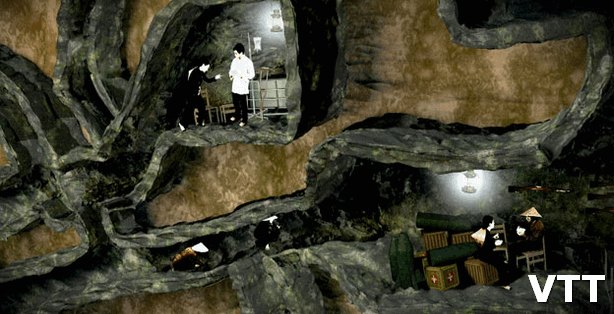 Cu Chi tunnel is among popular Places to visit in Saigon Ho Chi Minh city. You can visit it in a Cu Chi Tunnel Half Day Tour from Cruise Harbor or simply combine it in to a Cu Chi Tunnel and Saigon Full Day Tour. 
MEKONG DELTA
The Mekong Delta - Đồng bằng Sông Cửu Long "Nine Dragon river delta" - lies in the West of Ho Chi Minh City (so it is also called: Mien Tay), It shapes as a triangle stretching from Mỹ Tho province in the East to Châu Đốc and Hà Tiên in the Northwest, down to Cà Mau and the South China Sea at the southernmost tip of Vietnam, and including the island of Phú Quốc.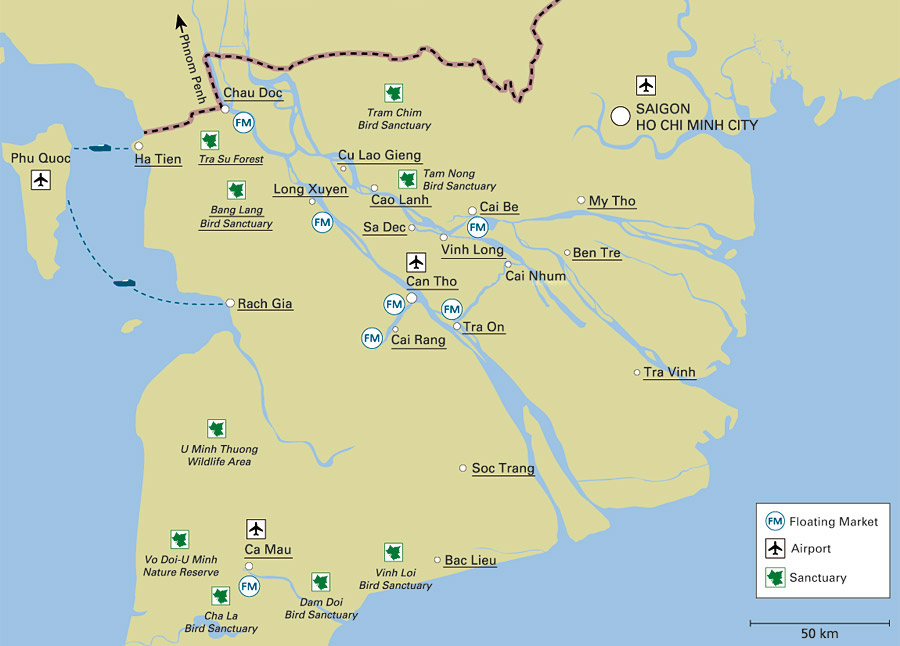 Vietnam Mekong Delta is dominated by flat flood plains in the south, with a few hills in the North and West. Life in the Mekong Delta revolves much around the river, and many of the villages are often accessible by rivers and canals rather than by road. 
A visit to the Mekong Delta is so memorable with the rural and countryside atmosphere. Tourists can meet the everyday scenes of children riding on the backs of water buffalo or cycling to school through country lanes clad in white ao dai; rice workers stooping in a sea of emerald; market vendors grinning behind stacks of fruit; bright yellow incense sticks drying at the roadside; flocks of storks circling over a sanctuary at dusk; Khmer monks walking mindfully in the shadow of pastel pagodas; locals scampering over monkey bridges or rowing boats on the delta's maze of channels. 
 Visiting this area, tourists can have a choice to get a Mekong Day Trip from Ho Chi Minh city or you can also go with an overnight trip to stay in Can Tho or cruise with a Mekong Cruise for a better experience of this watery place!
WAR REMNANTS MUSEUM
Located in the City center at District 3 and #28 Vo Van Tan street, Saigon War Remnants Museum primarily contains exhibits relating to the Vietnam War, but also includes many exhibits relating to the first Indochina War involving the French colonialists. The museum has been operated since 1975 and got the name as  "Exhibition House for US and Puppet Crimes", then "Exhibition House for Crimes of War and Aggression" in 1990. In 1995, following the normalization of diplomatic relations with the United States and end of the US embargo a year before, the references to "war crimes" and "aggression" were dropped from the museum's title as well; it became the "War Remnants Museum" (Bảo tàng Chứng tích chiến tranh)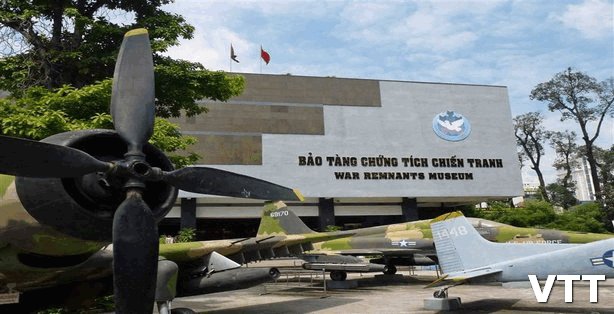 The museum now exhibit the different relics from the American War with several buildings and with period military equipment placed within a walled yard. There was also a place where the South Vietnamese government kept political prisoners called: "Tiger Cage", It is all about the bloody war that should not happen in Vietnam or anywhere else in the world. The museum now is a common destination to visit in Saigon and named as one of the important Places to visit in Saigon Ho Chi Minh city.
SAIGON NOTRE DAME BASILICA
Basilica of Our Lady of The Immaculate Conception - in short: Saigon Notre Dame Basilica is the centered building in the downtown of Ho Chi Minh city established by French colonists, the cathedral was constructed between 1863 and 1880. It has two bell towers, reaching a height of 58 meters (190 feet). All materials are brought from French and outer was paled with bricks from Marseilles. Although the contractor did not use coated concrete, but these bricks have retained their bright red color until today.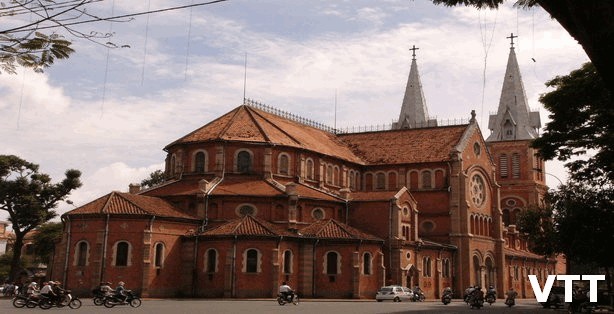 In 1960, this building became the Saigon Chief Cathedral, and conferred it the status of a basilica. From this time, this cathedral was called Saigon Notre-Dame Cathedral Basilica. 
SAIGON CENTER POST OFFICE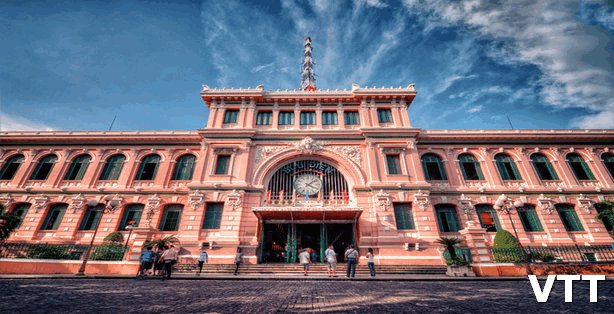 A building from the French time with strong Gothic, Renaissance and French influences in the late of 19th century, Saigon Center Post Office now is still in use for the same function. Due to its close distance to the  Saigon Notre Dame Basilica that it is very easy for everybody to get a look. You can also find a Vietnam Sim Card over here if you are in a long journey in Vietnam or simply get a Vietnamese stamp for souvenir. 
THIEN HAU PAGODA
Situated in the center of District # 5 (Chinese town), Thien Hau Pagoda is the unique Chinese worshiping place for a deity of traditional Chinese religion, who is revered in the southern maritime provinces of China and in overseas Chinese communities. Thien Hau is worshiped in the seafaring Chinese communities of Fujian, Guangzhou, Taiwan, and Southeast Asia. She is not specifically a deity of Taoism or Buddhism, though she has been brought into connection with figures and themes from Taoism and Buddhism. For example, at Quan Âm Pagoda, also in Cho Lon, Ho Chi Minh City, the two major altars are dedicated respectively to Thiên Hậu and to Quan Âm (the bodhisattva Avalokiteshvara) 
The pagoda brings the traditional Chinese figure with the roof decorated with small delicately fashioned porcelain figurines expressing themes from Chinese religion and legends. Lanterns and wooden models of Chinese theaters hang over the entrance. The interior of the temple is actually a partially covered courtyard, at the end of which is the altar to Thien Hau. The exposed portions of the courtyard contain incense burners, and open the view to the remarkable porcelain dioramas that decorate the roof. The dioramas show scenes from a 19th-century Chinese city, and include such colorful figures as actors, demons, animals, and Persian and European sailors and traders. In one scene, actors depict a duel on horseback battle between the revered halberd-wielding general Guan Yu of the novel Three Kingdoms and another fighter. Another scene depicts the three Taoist sages representing longevity, fecundity and prosperity. The altar to Thien Hau is dominated by the three statues of the goddess. The faces are bronze in color, and the clothes and crowns are multi-colored. Incense burners are all about. 
Thien Hau Pagoda is a common place to visit for any Ho Chi Minh City Tour. You can also visit this place with a visit to China Town in Ho Chi Minh city.
HO CHI MINH CITY HALL
Ho Chi Minh City Hall or Hôtel de Ville de Saïgon (Ho Chi Minh City People's Committee Head office) was built in 1902-1908 in a French colonial style for the then city of Saigon. It was renamed after 1975 as Ho Chi Minh City People's Committee. Illuminated at night, the building is not opened to the public or for tourists and it is quite hard for a long stop in front of the building.
Tourists would like to get a picture of this special building can stop at a statue of the leader Ho Chi MInh is found in park next to the building. From here you can get the view of the whole area and also the city Hall.
CHINA TOWN - CHO LON
This China Town - Cho Lon is the center of Chinese people (Hoa ethnic group) in Saigon spreading from half of district # 5 to a part of District # 6 on the West bank of Saigon river. This China Town is now one of common Places to Visit in Saigon Ho Chi Minh city. 
There are many pagodas and temples and Assembly Halls such as Thien Hau Pagoda, Minh Huong Gia Thanh Communal House, Ha Chuong Assembly Hall, Assembly Hall Wen Lang, Nghia An Assembly Hall, Quan Nhi Phu Hoi, Sung Chinh Assembly Hall ... also, here are the markets are always the focal point of the city wholesale, such as An Dong Market, Central market Affairs, Bau Sen market, Binh Tay Market, Kim Bien market, cloth market Soai Kinh Lam ... there are many eateries and shops of Chinese herbs and medicines of the Vietnamese (Quarter Hai Thuong Lan Ong).
VINH NGHIEM PAGODA
 Located in District 7 at #339 Nam Ki Khoi Nghia street, Vinh Nghiem Pagoda is the first Vietnamese pagoda built in concrete with the same traditional designation. This whole cultural building consists of 3 layers with the 03 buildings connecting to each other with the  letter I shape. Passing by the Three Main Gates reaching inside the pagoda, you will see the main building with the Northern style Curved tiles and in the middle of the roofs laid a Buddhism Wheel with phoenix and dragon shapes on the two side. On a side there is a Buddha Stupa build in 1982.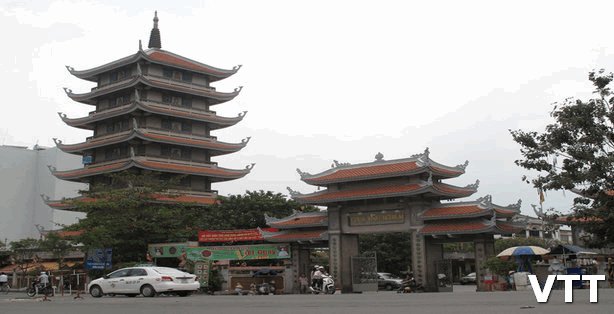 Vinh Nghiem Pagoda is not an aged building in town but it is a very famous sacred Buddhism place in Saigon Ho Chi Minh city.
CAODAISM TEMPLE
 4 km away from the center province of Tay Ninh, Caodaism temple is the holy place of a Vietnamese Only religion which was found in 1926. "Cao Đài" in Vietnamese  "A High Place", meaning the highest point in the ball that God reigns; as well as a shortened name of God in the Cao Dai religion, whose full title is "Cao Dai Tien Ong Dai Ma Ha Tat Bodhisattva".
Visiting Caodaism Temple today, you will learn a lot about the history of Vietnam in the early 20th century and also learn about the different Gods of Caodaism to understand more about the cultural character of Vietnamese people and the context that Cao Dai has been born from.
Tourists who would like to visit Caodai temple can visit in a half day tour from Ho Chi Minh City or also visit it with the combination of Half Day Cu Chi Tunnel and Half day Caodaism Temple from Saigon. 
BEN THANH MARKET
Stay right at the city center in District 1, Ben Thanh Market is one of the earliest French building in Saigon (Built in 1859, destroyed and rebuilt in 1912). This building got renovation in 1985 and is an important symbol of Ho Chi Minh City, popular with tourists seeking local handicrafts, textiles, souvenirs, as well as local cuisine. 
However, it is advised that when you come to this market, get used to the bargaining technique of Vietnamese people and try to negotiate to get the best deal for any thing that you want to buy. For the best deals of local fruits, you should go out to the 2 sides of the market to find many local people selling local fruits in baskets with their motorbike. You will find that the fruit here is around 30% lower than in the store inside.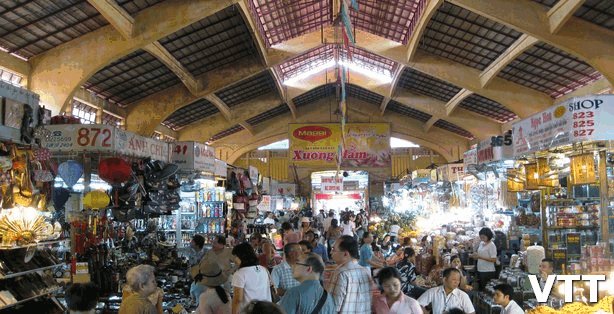 In the night time, you can also get a walk to the night market of Ben Thanh. It is actually just a small are of around 200 meter. However, the diversity of things sold here is not much. In the Saigon Day Tours to visit the city, we can stop in this market in around 1 hour to get you explore this Saigon center market.
SUOI TIEN AMUSEMENT PARK
Suối Tiên Amusement Park is in District 9, Hồ Chí Minh City opened in 1995 and in the beginning of 2017, the park will be served by a stop on the first line of the Ho Chi Minh City Metro which is currently under construction. The park includes several entertainment areas. The landscaping and attractions in the park illustrate Vietnam's history and legends, such as Âu Cơ and Lạc Long Quân as well as the Battle of Son Tinh and Thuy Tinh (The Mountain God and The River God). An artificial seawater pool is located in the park for sea-bathers. There is also a dinosaur garden. The Tiên Dong beach is a man-made beach featuring a gigantic waterfall with the face of an emperor sculpted into it. The park is colorful, and you will find giant sculpted dragons painted in gorgeous blue and orange pastels, soft red Buddha statues and lush green gardens, as well as all the normal theme park attractions; the park also has a zoo.
The park has been a popular tourist destination for local Vietnamese for years and if you finish visiting the city and find nothing to do, this will be a place for a half day visit.
DAM SEN CULTURAL PARK
Located in District 11, Ho Chi Minh City. Dam Sen Cultural park has an area of 50 hectares, of which 20% comprises lakes and 60% trees and gardens. The park comprises 30 areas: an electronic games zone, folk tales theater, antique castle, square, small west lake, Nam Tu royal garden, rock garden, and water palace, dancing island, sea life center, subaquatic puppet theater, ancient Giac Vien pagoda, butterfly garden, fishing area, ky long display zone, tea store, adventure games zone, swan lake, horse's gallop lake, western flower garden, ancient Rome-themed square, cultural square, water musical scene, bowling area, sport services area, crayfish fishing lake, Thuy Ta restaurant, children's play area, picture lamps, nine fragment edge, Monorail station, and Monorail track.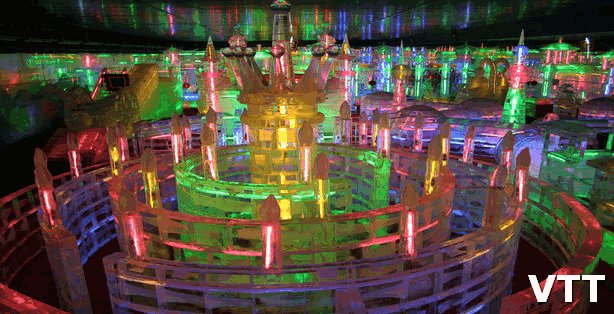 The tropical garden contains more than 70 species of birds and 20 species of animals. A 22-meter-high rock garden contains several waterfalls and caves, the largest cavern of which is decorated as a water palace and holds many colorful fishes. The Nam Tu royal garden features an orchidaceous garden and valuable bonsai ornamental trees. The park's adventure playgrounds and activities, including slide yard, electric cars, high speed slide train, and water park, are popular with teenagers.
The park has a number of features unique in Vietnam: its 2 km monorail, affording views from five meters above the ground; adventure boats that cross the waterfall; and the unusual "Roman" square, featuring European flowers including roses, classical Roman-style stone pillars, statues, and a musical water show with 3,000 seats. This water display, located just behind the European flower garden, was built in 2005 at a cost of 12 billion dong and placed behind the Europe flower garden. It features a musical performance on a specially designed stage featuring water sparys and laser lights, with films projected onto a 28-meter-high screen of water. The technique was based on a similar display in Sentosa Island, Singapore. 
VUNG TAU BEACH
Getting out of Ho Chi Minh city area to a place called Vũng Tàu which is the port capital of Bà Rịa–Vũng Tàu Province, on a peninsula in southern Vietnam. Once a French colonial town, it's now a popular seaside resort that draws visitors from Ho Chi Minh City, who arrive by hydrofoil with 2 hours or 2.5 hours by the main road. Vung Tau beach Its long, busy stretch of beach has the verdant Small and Big mountains as backdrop.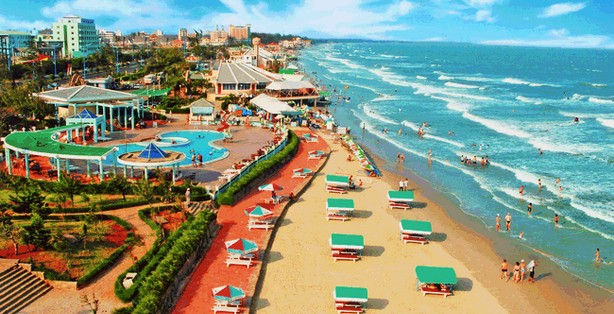 Once reaching to Vung Tau, tourists can swim on the beautiful ocean with the 2 beaches: Bai Sau, Bai Truoc and Long Hai beach. Moreover, you can visit Con Dao island which is special un-touched beach. Visiting the city center, you will not be able to pass the Buddha Statue of 19 meter, 32 meter high God statue, the White Village built by French for Governor of Indochina, Goddess of Mercy Pagoda or the Light House of Vung Tau.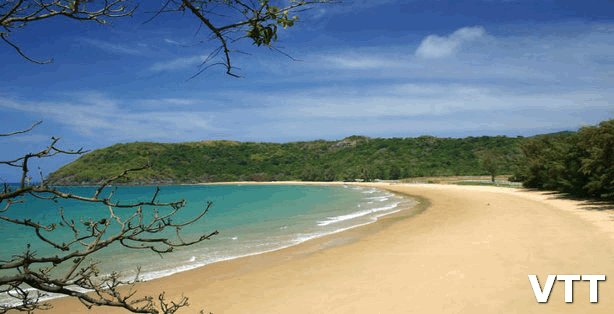 Customers with the Overseas cruises sometimes stop at Vung Tau beaches and would like to visit the city of Vung Tau or get a Day Trip to Ho Chi Minh City from Vung Tau cruise harbor can also contact us for the best arrangement for the trip.
 Further Reading: 10 best beaches to visit in Vietnam 
 VTT hopes that with the above information you have got the basic ideals of Places to Visit in Saigon Ho Chi Minh city and its surroundings area, Vietnam to be able customize your Saigon Package Tours with the best suitable to your desire and interest!
Have a nice holiday in Saigon Ho Chi Minh city, Vietnam!