Situated in the Indochina area bordering Laos, Thailand and Vietnam, Cambodia is well known for its ancient ruins, charming pagodas and small towns and villages where provide an opportunity to experience a more natural and traditional style of life The list of Best Places to Visit in Cambodia will provide to you an overview for Cambodia tourism destinations those will always be added in any Cambodia Package Tours.
10TH KEP
Kep is a small coast-land resort which offers many beach activities. Visitors will enjoy seeing the corals on the bottom of the shallow sea. Rabbit Island is a famous beach near Kep with rustic conditions. However, electricity is only provides in few hours in the evening. Most people visit this island on day trips. People found Kep as a colonial retreat for the French elite in 1908 and the town is still full of old villas with ruined shells. The visitors can also have panoramic ocean seeing at Kep National Park of see the way peppers are grown organically.
 Kep is a province-level municipality that consists of little more than a small peninsula facing Bokor National Park and Vietnam's Phu Quoc Island. It is 164 km away from Phnom Penh South and just 25 kms from the Vietnamese border.  
09TH BAN LUNG
Banlung is located in the Northern of Cambodia - the capital of Ratanakiri Province. Banlung is 636 km from the Cambodian capital of Phnom Penh. and close to Vietnam border. It is a great destination for visitors who love being outdoors. Some tour companies' overnight or multi-day trips allow adventuresome travelers to be closed and personal with the nature. They provide travelers the chances to see a variety of monkeys and other wild animal. The trip to Yeak Laom Volcanic Lake provides the opportunities to see the deep lakes and also see Cambodian women when they are doing the traditional weaving.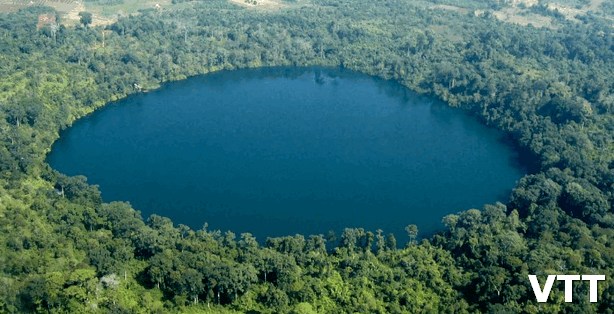 The main way to reach to Banlung Cambodia from Phnom Penh is with a long drive. Banlung has an airfield within the town, but all commercial airlines have stopped servicing Ratanakiri. The only flights were with Mission Aviation Fellowship, in an 8 seater, but these stopped at the end of 2009. Medivacs and charters are available from Helicopters Cambodia. Currently the Ban Lung runway is still a gravel strip, but there are plans to extend it and build a concrete runway, which would make it more likely to attract a new carrier and make cancellations in the wet season less frequent 
08TH BAT TAM BANG
Battambang is the second popular city in Cambodia which is in the North West of Cambodia. It is 173 km away from Siem Reap and 291km from Phnom Penh  . It is especially popular with Cambodian history. As a trading center in the 18th century, it became a part of French Indochina, with the existence of some colonial buildings. The town with many Angkor-style temples and Buddhist shrines, it is quite easy to go around the town by foot or bicycle. It is easy to find the statues, mostly animals and gods in the most public places. The most famous ancient is Khmer King on the road to Phnom Penh. The Central Market is deserved to visit.
The main way to Go to Battambang from Siem Reap  is by an Open Bus which operates every 30 minutes from Siem Reap town. You can also get a Private Car Rental with English speaking driver from VTT's Cambodia Local Tour Operator Partner. 
07TH KAMPOT
Kampot is located on a river not far from the Gulf of Thailand. It is more famous for its peppers than for tourism. It is gaining more tourists all the time. It is the gateway to Bokor National Park with the pleasant climate and lush primary rainforest. Kampot not only provides travelers the chance to go boating and rafting on the river through the town, but also see scenic waterfalls. The caves offer the chances to see the ancient ruins. This local is famous with Crab curry dish.
Kampot is 145 kms Southwest from Phnom Penh and it will take you around 2,5 hours to get there by bus or Private vehicle. This is a place for more adventurous tourists. 
06TH KRATIE
Kratie is a small town. It is located on the banks of the Mekong River and Old, French colonial buildings and central market place dominated this area. There is no big amount of tourists, but there are many backpackers come here during the peak season. Come here, visitors can see the rare Irrawaddy dolphins live in the Mekong River. There are between 66 and 86 dolphins in the upper Cambodian Mekong area.
Kratie is 242 km from Phnom Penh and buses is a way to get to this special town. You can also go with our Phnom Penh Car Rental with our private driver for a Customized trip to Kratie.
05TH SIHANOUKVILLE
Sihanoukville is the most famous Cambodian beach resort on the Gulf of Thailand. Be well known as Kompong Saom, Sihanoukville is a place that United States fought last battle in The Vietnam War. There are both sandy and rocky beaches. It is one of the Best places to visit in Cambodia after visiting all of the attraction in the rest of the country.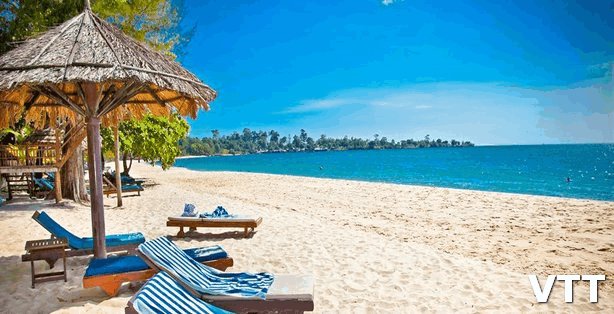 Reaching to Sihanoukville is with a 222 km drive South West of Phnom Penh reaching to Gulf of Tonkin. This beautiful city is with many 5 stars hotels and resorts and also with tiny huts on the beaches.
04TH SIEM REAP
Siem Reap is undoubtedly Cambodia's fastest growing city and it is a gateway to the world famous place of the Angkor temples and also one of the Best places to visit in Cambodia with so many temples, pagoda and bars, spas... Siem Reap provides variety of hotels, from some 5-star hotels to hundreds of guesthouses while many restaurants provide many famous foods.
Tonle Sap lake is another Places to visit in Siem Reap as the largest freshwater lake in South East Asia expanding and shrinking dramatically with the seasons. From November to May, Cambodia's dry season, the Tonlé Sap drains into the Mekong River at Phnom Penh. However, when the year's heavy rains begin in June, the flow of the Tonlé Sap changes directions and an enormous lake forms. Tonlé Sap is home to many Cambodian ethnic groups and numerous Cham communities, living in floating villages around the lake.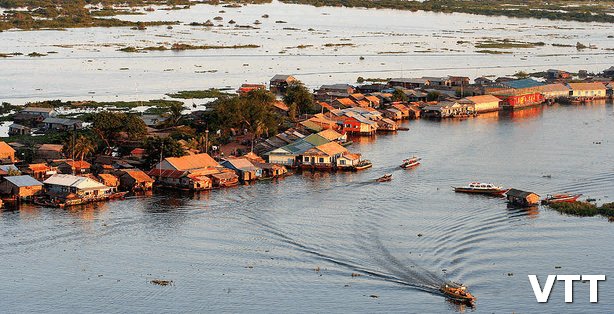 Reaching to Siem Reap, tourists can fly directly from many nations to Siem Reap International airport. Domestic fly from Phnom Penh capital is also available. If you are fond of bus travel, the 4 hours drive with our Private Car Rental from Phnom Penh to Siem Reap with the unforgettable stops to enjoy local fruits and insects will be the common choice.  
03RD PREAH VIHEAR PROVINCE
Preah Videar province is a poor local area of Cambodia but it is changing day after day as this is the place of 2 famous temples: Preah Vihear temple and Koh Ker temple.
120 kilometers Northeast of Siem Reap, Koh Ker is a remote temple area which was the capital of the Khmer empire. In that time, some spectacular building and huge sculptures were constructed. Koh Ker is now one of Cambodia's most remote and inaccessible temple as the new high way to it got finished.
Reaching to Koh Ker, you can get a Private Car Rental from Siem Reap to Koh Ker and also get a private Day Tour from Siem Reap to Koh Ker Temple.
About 2 hours extra drive from Koh Ker temple to Thailand border, tourists can visit the World heritage temple of Preah Vihear. the Preah temple is locked on top of a mountain with spectacular views and the meaningful buildings in the area will make your trip to Preah Vihear really well worth the length of 3,5 hours from Siem Reap.
02ND PHNOM PENH
Ranking 2nd in the list of Best places to visit in Cambodia, Phnom Penh is the largest city in Cambodia. It has been the capital since French colonial days. Phnom Penh is famous for buildings by French in Indochina and is still recovery from war and revolution. The city is located on the Mekong River. Top attractive destinations include the Royal Palace and the National Museum, hundreds of pagodas and temples. It is also good to pick up handcraft and souvenirs at here at Phnom Penh for your trip in Cambodia.
Reaching to Phnom Penh, tourists can fly directly from many nations to Phnom Penh International airport. Domestic fly from Siem Reap - the most famous tourist place is also available. If you are fond of bus travel, the 4 hours drive with our Private Car Rental from Siem Reap to Phnom Penh with the unforgettable stops to enjoy local fruits and insects will be the common choice.  
01ST ANGKOR
Nobody can deny that Angkor is the Best places to visit in Cambodia. It is known as the capital of the Khmer Empire from the 9th to the 14th. It is filled with historical treasures, it become one of the most significant sites in the Southeast Asia. The visitors can find ruins of a thousand temples over the lands and rice field. Top Must see destination in Angkor will be Angkor Wat temple - the world's largest single religious monument, the Bayon temple at Angkor Thom with massive stone faces and Ta Prohm - a Buddhist temple ruin entwined with towering trees.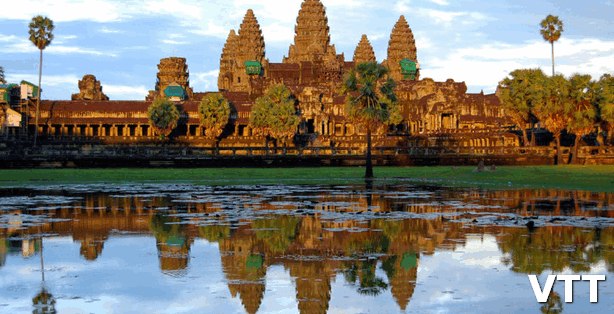 Siem Reap is the Must Stop before Angkor temples with many hotels and an international airport. It is quite cheap for a 20$ per day visit to these Angkor temples and VTT can customize any day tours as well as Package Tours to Visit Angkor.
We do hope that the Best Places to Visit in Cambodia Listed above have well provided you the places to go to discover the country the best. Let's us be your local expert to inform you what is the best time to visit these places during your Cambodia Package Tours and how you can travel with the best value.