Vietnam tourism spreads out in the nation with 63 administrative units and Hanoi is our capital with 03 parts:
Northern, Central and Southern

. With the length of over 2000 km long and over 3200 km of coastline and the rich, long standing culture, Vietnam tourism has got many advantages and is becoming a significant component of the modern Vietnamese economy.

For backpackers, culture and nature lovers, beach-lovers and veterans touring the country for a long time, Vietnam tourism has emerged itself as a new tourist destination in Southeast Asia and on is now on lists in magazines worldwide.
Vietnam's diverse natural environment, geography, history, and culture have created a great potential for the Vietnam tourism industry. Vietnam consists of long coastlines, forests, and mountainous regions with numerous magnificent landscapes. As well as a long history Vietnam has a diversified culture with variety of ancient architecture constructions, and wonderful legends.
Vietnam Tourism map: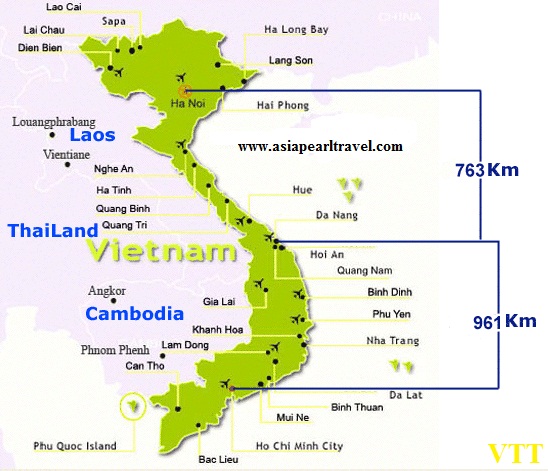 Vietnam is a long country and we devide it in to 3 regions which are very different from each other with climate, ethnic, geography and culture. We are also said to be a mountainous country with 3/4 of the nation is hills and mountains.
Listing in the Best places to visit in the North of Vietnam, Halong Bay Vietnam is the top wanted place. The next come of Hanoi Capital with long standing culture, Sapa Vietnam with local ethnic beauty and mountainous landscape are listed into the 3 Top destionations in the North of Vietnam.  
When reaching to the center of Vietnam, the top destinations will be counted out with Hoian Ancient town, Hue Ancient capital, Danang dynamic city, Myson Holyland of Champa people and the new destination of Dong Hoi with Phong Nha – Ke Bang National park, Phong Nha cave, Thien Duong Cave and the magnificent Son Doong cave.
Once getting to the South of Vietnam, the top place to visit is the dynamic Ho Chi Minh city,  Mekong Delta tour and the special Cu Chi underground tunnel system.
Vietnam tourism is also based on a long coastline that extends along the eastern mainland boundary and wraps around the southern tip for 3,260 km, a distance geographically longer than the length of the country. Vietnam has 125 beaches, which almost of all are beautiful beaches and convenient for tourism but not every country can have. From North to South of Vietnam, there lays hundreds of beautiful beaches with Lang Co beach, Nha Trang beach, My Khe beaches, Vung Tau, Phu Quoc beaches, … Those are the wonderful places for beach lovers. In addition, tens of millions of valuable antiques and national treasures are being preserved and on display at the system of 125 museums distributed all over the country. Also, the traditional festivals, custom, arts performances, handicrafts, gastronomy, costumes… of the community of 54 ethnic groups have been becoming the important tourism resources.
Tourism in Vietnam is getting a better role in Vietnam economy and is considered one of the leading industry in Vietnam. Every year it develop around 10%.
Wellcome you to Vietnam !
Vietnam Tour Tailor company would like to share some information about Vietnam tourism. For more information, please do not hesitate to contact us at: info@asiapearltravel.com or visit our site at https://asiapearltravel.com
See also:
>> 10 Best Places to Visit in Vietnam