Promotion Issued on 10/10/2012 - Latest revised on 5/9/2016 - Valid till 10/10/2022 - Promotion code: FVOA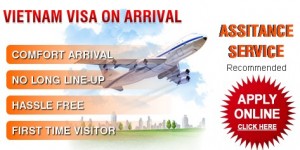 Are you searching for a Vietnam Visa On Arrival and also your Vietnam Tours? This is the place you can end your searching with our Special Offer for Any Vietnam Travel Packages - The FREE Vietnam Visa On Arrival.
Step 1: Get the photos of passports, day you would like to come to Vietnam
Step 2: Pay the deposit money Online to confirm the services
Step 3: Get the Copy of the letter (through scanning as a picture); print it out. Bring it with you when you fly to Vietnam. Without it the airport will not let you take a fly to Vietnam.
Step 4: Get the Visa Stamp at the Custom when you check in Vietnam. There will be a counter where you will go to: Visa On Arrival counter. Please handle the letter and the passport with 02 PHOTOS (4cm x 6cm) of you to the Custom office and pay the stamp fee of 45$ per passport to get the stamp and you can stay in Vietnam for 1 month.
Step 5: Find your driver or tour guide who is holding a card with: "VTT Welcomes: Mr./Mrs + Your name". Start your discovery of our nation with Hanoi, Danang or Saigon!
Short Q&A
1: What is "Package Tour" by VTT?
A: "Package tour" is when you use transfer, guide, hotel, meals, fees all included in one package arranged by VTT.
2. Is a Halong bay cruise tour considered Package Tour by VTT?
A:  An example you wish to book 2 days 1 night tour to Halong bay overnight on Vspirit Cruise, it is NOT a package tour by VTT as it is simple a Package by Vspirit cruise and we are just the middle man for it. Thus, this 2 days 1 night is not a VTT product and the promotion is not applied.
3. Free Online Visa applied for Any country?
A: If your nationality is aided with VOA, you can get it. Please visit your country Visa details by using search box in: https://asiapearltravel.com/vietnam-online-visa/
4. Promotion Exception.
The promotion is not valid for US citizen. Since 1st of Sep, 2016,  US citizens visiting Vietnam will have only 1 option is to obtain the Visa On Arrival for 1 year multiple visit. The stamp fee is 125$ paid by client at Vietnamese airport.  Our fee is similar to 3 months multiple visit.
Further please visit: https://asiapearltravel.com/tour/vietnam-online-visa/?cat_book=1
We wish you a happy Vietnam stay!