Do you know what food not to eat in Vietnam? What is the dishes you should not eat in Vietnam? Vietnam is a nation of a 2000 km long and with the various culture of 54 ethnic groups. With the diversity of cultures and cuisines leading to many SPECIAL POISONOUS DISHES. Among those, there are 10 dishes that we would like to introduce to you NOT to try or you try with a care and in a small amount. This will hope to get your Vietnam Package Tours going smoothly without seeing any doctors.
1. Tiet Canh - Fresh blood pudding.
Fresh blood pudding is unique rustic dishes only in Vietnam. Although this is a traditional dish is widely eaten but many people also have the problem as eating this pudding. The pudding is made by fresh blood of duck, or pig which is not cooked and may contain many viruses as well as helminths those can destroy your body.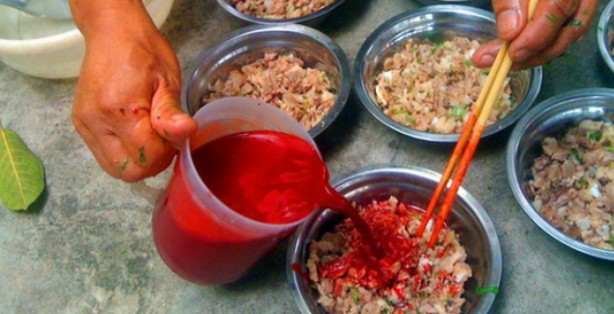 The question is: Why Vietnamese eat this dish? Simply it is very delicious as the way we make it and also it is a alcohol killer. Thus, do not try a small bite of this dish without a full cup of 45% alcohol local moonshine. This dish is so popular in Vietnam that always appears in the big feast.
2. Fermented pork rolls - Nem chua
Nem chua is one of the dishes are very much preferred by its flavor characteristics. Nem chua made from raw pork, mixed with flower, garlic, peppers, after 3 days of fermentation, it is edible.
However, because the dish made from pork, rice flower, the main mechanism is self-ripen fermentation without process so nem chua can be infected with mold, and pathogenic bacteria. So it is best to not use the nem chua which is out of expiry date. It is still or strong advice to try it with Vodka or local moonshine and of course do not eat much. This special food appears everywhere, from beer shops to supermarkets.
3. Cóc - toad.
When its brother: frog is the favorite, toad is not a recommended food for foreigner in Vietnam.
 Bufotoxin toxins and other substances found in liver, eggs, toad skin and if not carefully processed, these toxins may survive and cause danger to consumers. If ingested in large amounts, 1-2 hours after eating the toxins will cause abdominal pain, nausea, vomiting, hypertension, severe arrhythmia, respiratory failure and respiratory arrest, failure circuit and died just after 3- 4 hours if not timely cured in the Emergency Department and Antitrust Resuscitation. The toad is widely used for babies in Vietnam.
4. Puffer fish - Cá Nóc
Puffer fish is notoriously toxic, but a lot of the Vietnamese still risk their dose to eat this killing yummy fish and then a lot had to pay with their lives as a result.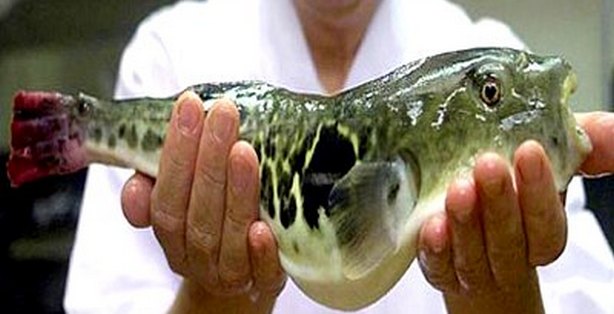 After eating this sea fish, only after 10 to 15 minutes the patient tongue feels numb. Throat, lips, face, limbs get weak, difficult in breathing due to paralysis of the respiratory muscles, hypo-tension and stop breathing may lead to weak breathing casualties, which is the effect of the toxin named: natetrodotoxin in the food. This toxin is not destroyed by heat, so even stewed, fried, or dried puffer fish is still poisonous.
5. Chinese Water caltrop - Củ Ấu Tầu
Popular in some mountainous area in the North of Vietnam such as Cao Bang, Lao Cai... as Au Tau porridge that if you come to these area you have to try.Traditionally we use the Chinese Water Caltrop as a medicine to reduce pain by alcohol immersion therapy. Some nowadays use this to be a food and if it is not well stewed, it will sometimes be dangerous to eat the porridge as the toxin inside it.
The aconitin is a toxin, even after eating, drinking small sips we can immediately see tongue numbness, loss of sensation in the tongue, throat, face and to the limbs, followed by nausea are muscle spasms, cardiac arrhythmia, palpitations and shortness of breath, wheezing and then stop breathing and die quickly. 
6. Trionychid turtle - Ba ba
Trionychid turtle  is a delicacy in restaurants of Vietnam. It is the specialty that every wish to eat. However, the meat is only eaten when the animal is alive and healthy.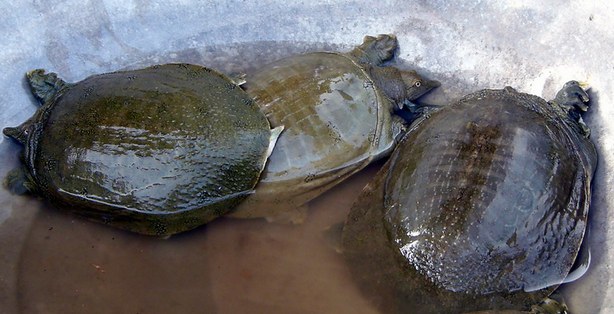 Dead Trionychid turtle  is a toxin called Histamine which can lead to death if not eat much and without timely emergency.
7. Stink bug, cicada, silk worm, locust... 
These have been considered as a very attractive dish for very long time in Vietnam. However, these may be parasitized by many poisonous mushrooms which may be toxic and creat eating digestive disorders, coma or even death resulting.
 8. Jelly Fish
In Vietnam, jellyfish is commonly used to make salad, soup, noodles... But eating  jellyfish in breeding season is very dangerous. Spring - Summer is the time of reproduction of jellyfish, they often accumulate many toxins that can cause food poisoning, affecting human health.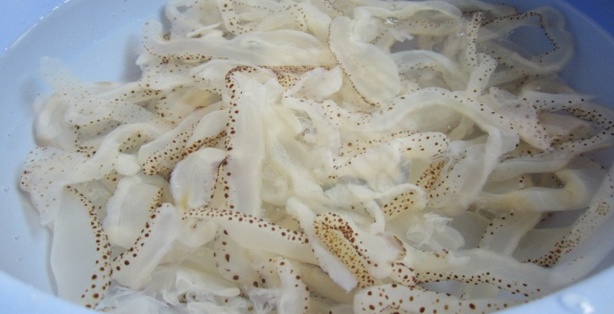 Jellyfish must be soaked in salt water 3 times when alum jellyfish meat turns reddish or yellowish then it is the time to bring for food processing.
9. Horseshoe crap - Con so
There are actually 2 types of the horseshoe crab and one of each is a delicious food but the other is actually a toxin. The only small difference is the skin color of the good one and the bad one. The picture following will be the NOT edible one that you can remember!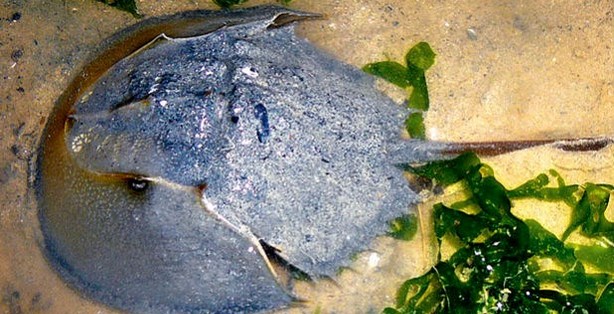 10. Bamboo root
This is the most widely used by every families. Bamboo root contains very high levels of cyanide, about 230mg / kg of bamboo shoots and roots. to get it edible will need a decontamination by lime and get boiled several times.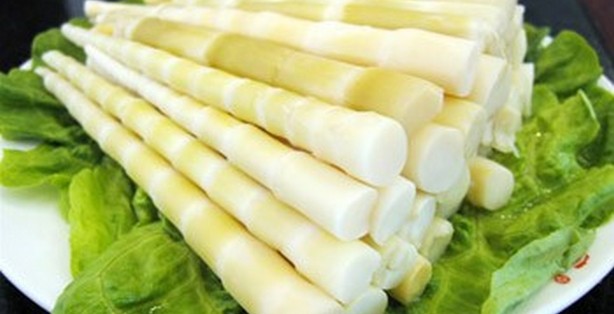 When eating bamboo contains many cyanide, under the action of digestive enzymes, cyanide immediately turned into cyanhydric acid (HCN) which is an extreme toxic to the body. Each kilo contains about 230mg cyanide that can cause immediate death to two children over a year old.
We do hope with the information above, you will know the food Not to eat in Vietnam and this will help to get your Vietnam Package Tours going smoothly without seeing any doctors. By any means, just choose our Food Tours which is carefully designed for your tasting experience in Vietnam without problems.
Have a great Vietnam Trip!