Da Nang  is a Port coastal central city of Vietnam known for its sandy beaches and history as a French colonial port and an international airport serving for the whole area. More than that, Danang is also a famous tourism destination in Vietnam. The following Places to Visit in Danang city will be listing out places you need to see when you are in one of Danang Package Tours. 
HUE CITY
Hue is around 100 kms Nothern of Danang. This is the ancient capital of Vietnam from 19th century till the middle of 20th Century. You can learn more about this destination at: 
Further Reading: Places to visit in Hue Vietnam
HOIAN ANCIENT TOWN
Hoian ancient town is 35 kms South West of Danang. This is the special place with beauty of the ancient town built from 17th Century. You can view this destination at:
Further Reading: Places to visit in Hoian and Surroundings
MYSON HOLYLAND
Myson is a special holy place of the Cham people which is a world heritage of Vietnam. It is also listed as 1 of the 10 Best Places to visit in Vietnam. You can view its details at: Myson Holyland Vietnam. 
Futher reading: 10 Best Places to visit in Vietnam
CHAM SCULPTURE MUSEUM
Standing in the 1st list of Places to visit in Danang, Cham Sculpture Museum is inside the city center and very easy to walk to if you are staying in a city center hotel. Visiting this museum, you will not only learn about Cham culture and architecture but also have a relaxing time enjoying artistic works from many years ago.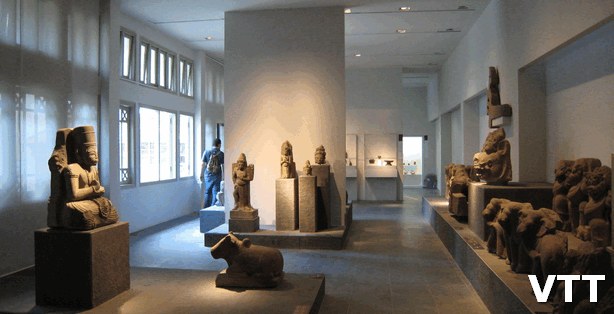 The establishment of a Cham sculpture museum in Da Nang was first proposed in 1902 and the Museum's first building was opened in 1919. The first extension was in the 1930s, with two new galleries providing display space for the objects added in the 1920s and 1930s. Now, there are over thousands relics and art work reflecting the cultural life of Champa people in the past and even present. 
NGU HANH SON MARBLE MOUNTAIN
The Marble Mountains are called Ngũ Hành Sơn - "Five elements mountains" in Vietnamese. It is a cluster of five marble and limestone hills located in Ngu Hanh Son ward, south of Da Nang city in Vietnam. The five 'mountains' are named after the five elements; Kim (metal), Thuy (water), Moc (wood), Hoa (fire) and Tho (earth). All of the mountains have cave entrances and numerous tunnels, and it is possible to climb to the summit of one of the peaks.
Several buddhist sanctuaries can also be found within the mountains, making this a famous tourist destination. The area is famous for stone sculpture making and stone-cutting crafts. Direct rock extraction from the mountains was banned recently. Materials are now being transported from quarries in Quảng Nam Province.
BA NA HILLS
 Opened to the public in March of 2009, the Ba Na Hills Cable Car has received four Guinness World Records, including longest single-wire cable car system (5,771.61 meters), highest difference between departure and arrival terminals (1,368.93 meters), longest non-stop cable (11,587 meters) and the heaviest cable roll (141.24 tonnes).
This third cable car line, known as the Toc Tien Waterfall-Indochina, was built in order to better serve and satisfy the demands of our guests. Doing just that, it features 86 cabins – open air, enclosed and glass encased – each able to accommodate ten people, this transport system is able to carry 1500 visitors per hour at a speed of six meters per second.
Visiting Bana Hills, you will not only enjoy the spectacular view from the Cable car but also enjoy the amusement park with many attractions inside such as: Bana Fantasy Park; Linh Ung Bana Pagoda, Debay Wine Cellar, Funicular, flower garden of Le Jardin D'amour, Wax Show Room, Alpine Coaster...
With many attractions inside the hills, visiting Bana Full Day Tour From Danang City is normally private tours as the demand of different tourists and the area is so big to gather up everybody.
SON TRA PENINSULA
Unlike other coastal areas in Da Nang, the Son Tra peninsula has benefited by a conservation with only two presently exist (the Intercontinental and Son Tra Resort). This means it remains a scenic escape from the rapidly growing urban area of Da Nang city. The area was well and truly put on the map in the summer of 2010 with the completion of Son Tra Quan Yin, the Goddess of Mercy, similar to the Jesus Christ in Rio de Janeiro, Brazil), and Ling Ung Pagoda, which has become one of the most significant pilgrimage destinations for Buddhists throughout Vietnam.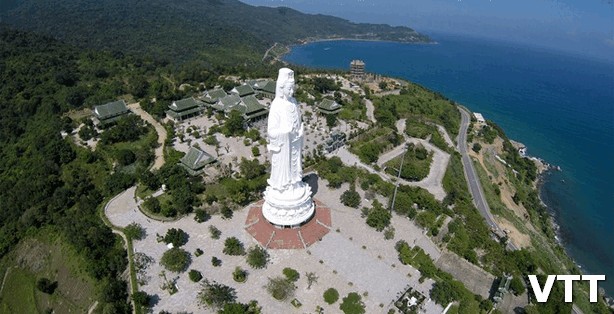 The peninsular is around 10 km away from the city center of Danang including the drive on Son Tra mountain.
HAN RIVER
The Han River is a river located in the South Central Coast region of Vietnam. It originates in Quang Nam Province and empties into the South China Sea at Da Nang. Crossing the city center, it has helped to build up the most beautiful city on the banks of river in Vietnam. There are many bridges crossing the river and the most famous one is the Dragon Bridge that can release Fire and Water.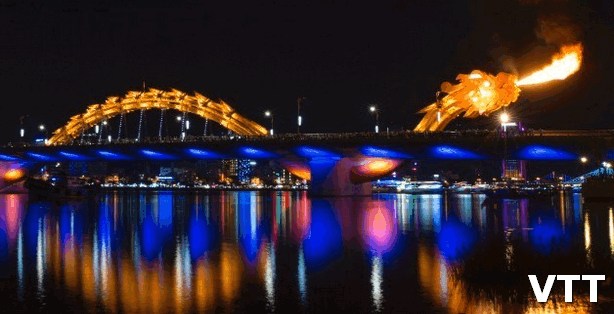 The bautiful city Danang is also the host to the annual International Firework Festival which normally takes place in end of April and Early of May. This is also a time for visitors to witness a modern developing Vietnam.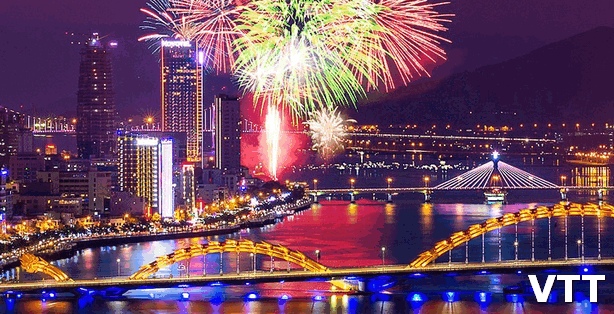 For beach lovers and city discoverers, Danang city and My Khe beach is also worth for a night stay.
LINH UNG PAGODAS
There are actually 03 pagodas in Danang named Linh Ung Pagoda. However, they are very faraway from each other. The list here for you to get to know.
1. Linh Ung pagoda in Bana Hills with giant statue of Shakyamuni - the founder of Buddism. Bana Hills is 35km from the city center
 2. Linh Ung Pagoda in Son Tra Peninsular with giant statue of Goddess of Mercy which is 10 kms away from the city center. This pagoda is also known as Linh Ung Bai But pagoda
3. Linh Ung Non Nuoc pagoda: This is the pagoda inside the Marble Mountain 8 km away from Danang. This pagoda is always the pride of Danang people and it has been here since 1825 and in 1997, the 30 m Buddha Tower was finished with 200 statues made from Stone and 40 stone pictures.
MY KHE BEACH
My Khe beach (once known as China Beach) ranks the 6th in the list of most beautiful beaches in Vietnam, Vietnam. The beach is long and sandy with many hotels on the side of the city of Danang. My Khe beach is also famous for its clear water and peaceful environment of one of the best city to stay in Vietnam.
Further Reading: Top 10 beaches to visit in Vietnam
VTT hopes that with the above information you have got the basic ideals of Places should Visit in Danang, Vietnam to be able customize your Danang Package Tours with the best suitable to your desire and interest!
Have a nice holiday in Danang, Vietnam!